Who Are We?
We are three associations of Baptist churches that surround the Kansas City area.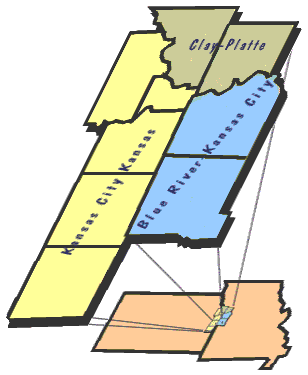 The Blue River-Kansas City and Clay-Platte associations are on the Missouri side of the state line, while Kansas City Kansas association takes in five counties on the Kansas side. Altogether, we have almost 240 congregations with approximately 90,000 members.

These three associations work together on local mission projects under the banner CityFocus Missions. For the past several years the associations have addressed city-wide needs through this cooperative ministry.

We are...
Evangelistic
Mission Minded
Bible Centered
Rural
Suburban
Urban
Small Church
Large Church
Traditional
Contemporary
But most of all we are congregations who want to share the good news of God's love and forgiveness through a personal relationship with Jesus Christ with all of Kansas City.

More information can be found on each association's web site, which can be accessed through the links on this page.
---